The past few days have been pretty busy. Tuesday and Wednesday my mother-in-law came over to help me build the tree for Tyler's room. We've wanted to do this since he was born basically...and now we finally have the time! Lynda has been so great. I know I couldn't have done this project without her. She is doing most of the work, but I'm learning a lot from her! I'll post pictures of the progress. I can't wait until it's done!
Also, Wednesday night the bulb in our tv went out. We'd been getting a warning on our screen for about 6 or 7 months that we need to replace it, but didn't want to pay the $100 it costs to do so. Well, we finally had to shell out the cash and get a new one. It arrived today! YAY! I have to say that it's pretty pathetic how much my life revolves around television. I definitely get more done when I don't have it! I play with the kids more and I hardly sit down unless I'm eating. In a way, it's kinda nice. I did so much today that my legs are sore! Anyway, it certainly has been a learning experience.
Today Tyler's friend Ethan came over to play while his mom went grocery shopping. They had a lot of fun and played well together. They were really silly. Amanda (Ethan's mom) brought taco bell for lunch. It was yummy! We had fun visiting and playing with the kids. It was a nice day!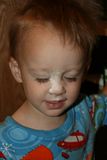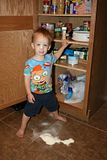 Tyler decided he wanted to try some of Josh's formula. Ooops!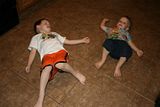 Tyler and Ethan making funny faces on the kitchen floor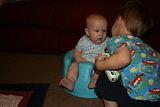 My sweet baby boy. He's getting so big!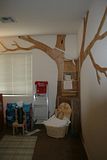 Tyler's tree comes to life! Thanks Lynda!!!!